Track and manage people locations and associated information throughout their journey to gain insights into critical information and safeguard data, security, and wellbeing.
AssetVoice™ is the award-winning asset tracking and management of change software that utilizes RFID technology and sensors to monitor, track, and manage people in the most effective and efficient way possible.
At the click of a button, AssetVoice™ can provide real-time tracking, intelligence, and analytics about anything you need to know, including but not limited to:
Current locations and change notifications
Average time spent in locations
Personal data
Location history including time stamps
Overcrowding alerts
Location hotspots
People accounting in emergency situations
Alerts for people leaving and entering designated zones
Security breaches
Maximize Visibility and Control
Access real time data on people's location information, movement, and journey progression to maximize visibility for better management and control
Make Informed Decisions
Gain insight into critical datasets and analytics and use this knowledge to enhance planning, preparation, and people's experiences
Boost Productivity
Eliminate manual data management through automation and digitalization of people's information to boost productivity, save time and minimize error
Unlock Efficiencies
Automate tracking and notifications to allow staff to be more focused on important tasks and increase the speed of processing whilst reducing human error
Enhance Profit
Demand higher rates for premium locations and hotspots, backed up by real-time historical data
Heighten Security
Enhance security measures through real-time access to location data and receive alerts when anomalies or unauthorized movement occurs
Watch AssetVoice™ in action
Tagging
Asset existence is verified and tagged with RFID or barcode tags
Locations
Tracking locations are set up. This can include a warehouse, asset, zone, building, room, vehicle, etc
Installation
"Gate" readers and scanners are installed in the locations to capture movement
Software
The AssetVoice™ software is set up and customized based on the client requirements and specifications (e.g. notifications, alerts, maintenance)
Integration
If required, AssetVoice™ can be linked to the CMMS or ERP utilizing integration middleware technology so users can enjoy automated management of change that is cascaded through to existing asset management system
Implementation
Companies can now efficiently and effectively track, monitor and manage assets throughout their lifecycle and enjoy all the associated benefits
What is RFID?
RFID stands for "Radio Frequency Identification", an action whereby data encoded within an RFID tag / label is captured by a reader via radio waves. The data from the tag is captured by a device and cross referenced with a database to either display or log information, in a similar way to how barcodes work.
How does it work?
RFID tags / labels contain an integrated circuit and an antenna, which are used to transmit data to the RFID reader.
RFID does have many advantages over barcode systems, one prominent advantage being that RFID does not require line-of-sight, whereas barcodes require optical scanning.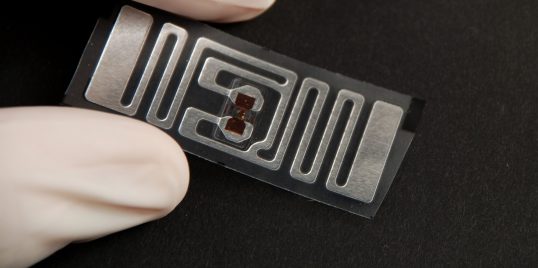 What RFID tags and labels are available?
Cards or adjustable RFID tagged wrist bands secured with an adhesive tab are the most efficient and effective method of tracking people.
With an extensive variety of tag and label options, RFID technology provides a variety of options to suit every need, situation, and application.
How does AssetVoice™ work with RFID tags and labels?
Information relating to the person that the RFID tag is assigned to is uploaded and stored in our AssetVoice™ software.
Custom rulesets and workflows are established and set up to automate location tracking and notify key stakeholders of changes – providing maximum visibility, unlocking people management time efficiencies in processes, and protecting the well-being of people.
Our RFID experts can advise and supply the RFID tags/labels required for the application they will be used in.
REGISTER YOUR INTEREST IN ASSETVOICE™
By registering your interest in AssetVoice™, you can:
Book a demo of the software
Get more details about the software and hardware solutions
Receive ongoing insights and advice for asset tracking and labelling initiatives