Optimize with AssetVoice™
At the click of a button AssetVoice™ can provide real-time intelligence, notifications and alerts around: 
Asset's current location and location history
Asset specifications (name plate data, classification, functional location, certifications, etc.)
Reliability, maintenance, and inspection data and history
Upcoming requirements relating to performance testing, certification, or maintenance
Associated spare parts and Bill of Materials (BoMs)
Asset financial accounting and cost centers
Stock levels in warehouses and alerts for procurement requirements
Adherence to quality assurance processes
Security breaches and unexpected movement
Other bespoke needs and requirements
Automating Management of Change
Link AssetVoice™ to your CMMS so that changes to the equipment status are updated automatically and in real-time, minimizing admin time
Assure Compliance
Receive alerts relating to the management of safety critical equipment to help ensure compliance with legislation and regulations
Inventory Optimization
Optimize your spares holding by assuring you have the right amount of the correct spares in stock, no more, no less
Efficiency Gains
Avoid delays in maintenance and downtime through instant access to insights on replacement part availability and its location
Make Informed Decisions
Access up to date and accurate data in real-time to allow decision makers to make good decisions and mitigate risk
Boost Productivity
Efficiently access asset information on a tablet device whilst on site to assure all information required for a workorder is readily available to assure productiveness
Watch AssetVoice™ in action
Tagging
Asset existence is verified and tagged with RFID or barcode tags

Locations
Tracking locations are set up. This can include a warehouse, asset, zone, building, room, vehicle, etc

Installation
"Gate" readers and scanners are installed in the locations to capture movement

Software
The AssetVoice™ software is set up and customized based on the client requirements and specifications (e.g. notifications, alerts, maintenance)

Integration
If required, AssetVoice™ can be linked to the CMMS or ERP utilizing integration middleware technology so users can enjoy automated management of change that is cascaded through to existing asset management system

Implementation
Companies can now efficiently and effectively track, monitor and manage assets throughout their lifecycle and enjoy all the associated benefits

What is RFID?
RFID stands for "Radio Frequency Identification", an action whereby data encoded within an RFID tag / label is captured by a reader via radio waves. The data from the tag is captured by a device and cross referenced with a database to either display or log information, in a similar way to how barcodes work.
How does it work?
RFID tags / labels contain an integrated circuit and an antenna, which are used to transmit data to the RFID reader.
RFID does have many advantages over barcode systems, one prominent advantage being that RFID does not require line-of-sight, whereas barcodes require optical scanning.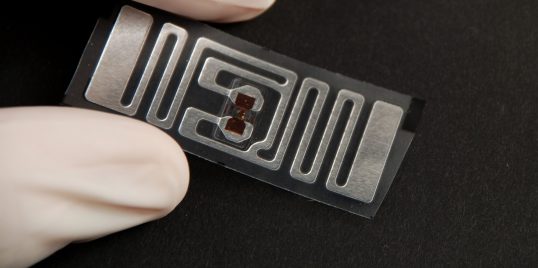 What RFID tags and labels are available?
Due to the resilience of RFID tags, tags are traditionally used for larger assets that may need to operate in extreme temperatures or hazardous environments. There are various shapes, sizes, materials, and methods for attachment.
Labels are traditionally more suitable for smaller assets, are durable and have options even to be applied directly onto metal.
With an extensive variety of tag and label choices, RFID technology provides a variety of options to suit every need, situation, and application.
How does AssetVoice™ work with RFID tags and labels?
Information relating to the asset that the RFID tag or label is assigned to is uploaded and stored in our AssetVoice™ software.
Custom rulesets and workflows are established and set up to automate processes and notify key stakeholders of change – reducing human intervention, chance of error and unlocking time efficiencies in processes and management of day-to-day tasks. r
Our RFID experts can advise and supply the RFID tags/labels required for the application they will be used in.
REGISTER YOUR INTEREST IN ASSETVOICE™
By registering your interest in AssetVoice™, you can:
Book a demo of the software
Get more details about the software and hardware solutions
Receive ongoing insights and advice for asset tracking and labelling initiatives