Project showcase
CMMS Build and BoM Development Project for a Major Oil and Gas Operator
Project goal
To develop a comprehensive asset register, implement optimized maintenance plans with Performance Standards for all maintainable equipment, and develop accurate and reliable BoM data in the CMMS
Major oil and gas producer
Why we were contracted
Add Energy's maintenance engineering team were contracted to rebuild the client's asset register and optimize the completeness and quality of their maintenance management data and regime. The project scope included four key factors:
Asset register hierarchy build and enrichment facilitated by a desktop verification exercise
Criticality review and assignment update
Maintenance plan allocation
Development of Bill of Materials (BoMs)
The challenge faced by the client:
The CMMS was relying on incomplete and inaccurate core asset register data which resulted in inefficient management of assets along with time and money expended in non-critical areas
The client had incorrect criticality assignment and incorrectly assigned equipment types making it difficult and time consuming for the planners to determine the correct materials for maintenance
The maintenance procedures in place were ineffective and incomplete delivering longer downtime and lower overall system availability
Poorly assigned performance standards exposed the asset to increased risk to personnel, environment and reputation
The developed Bill of Materials data was incorrect, resulting in poor data governance standards, poor search capability and planners not being able to find the materials that are actually in stock for maintenance. This resulted in unscheduled downtime and the inability to share material masters across the organization and miss the opportunity to expand the cost savings
What we did
To address the known issues affecting the effectiveness of the asset management and maintenance program, Add Energy conducted the following work tasks:
Developed comprehensive asset registers through desktop asset verification (DAV) of the drawings and documentation
Rebuilt the asset register and maintenance, ensuring all maintainable equipment in the field was captured within the asset register with the right maintenance assigned
Assigned correct criticalities and equipment types following ISO 14224 standards
Implemented effective maintenance for all maintainable equipment and assigned the right performance standards assurance activities
Developed equipment registers through datasheets and OEM manuals
Developed BoMs and associated them to applicable equipment
All maintainable equipment is now visible in the asset register with the right equipment type assigned
Foundation data required to effectively and efficiently manage safety, maintenance and equipment integrity is now in place
All equipment tags have been reviewed and validated with the P&ID to ensure they are maintainable pieces of equipment
All functional location descriptions are standardized allowing for easy search and identification of items in the asset register
Correct and validated manufacture details assigned to equipment, allowing the right BoM to be assigned
Prioritization of maintenance for the critical equipment is now in place
SCE's are now classified correctly to ensure legislative compliance and alignment to the safety case/performance standards
Allows risks associated with failure, deterioration or incident to be managed efficiently and proactively
SCE's are being maintained at an optimum frequency
All maintainable equipment now has the right maintenance assigned
SCE maintenance is now clearly identified and segregated from non SCE maintenance
Performance Standards assurance activities are now implemented to assure effective integrity management
Improved object lists allow for effective and efficient maintenance execution
Having accurate and reliable BoM data in the CMMS will:
Enable part sourcing to be more time and cost effective through access to reliable, accurate and readily available data
Assure the planners have the information they need to source the correct parts in a timely manner without paying premium prices associated with last minute orders
Help avoid unnecessary expenditure, access to the correct equipment specifications will help the asset to avoid purchasing the wrong equipment, causing unnecessary expenditure
Benefits provided for the client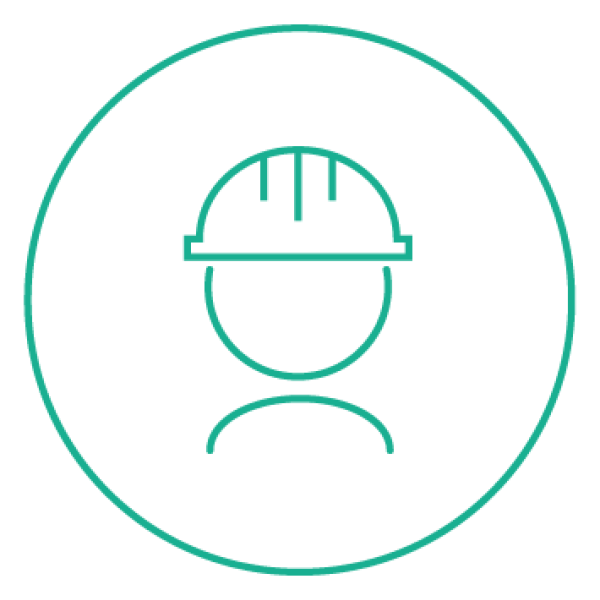 Improved equipment reliability, plant and personnel safety
Effective maintenance work execution allows proactive maintenance rather than reactive and firefighting approach, improved production and equipment uptime, improved equipment reliability, enhanced plant and personnel safety and improved BoM coverage
Cost and efficiency savings
With the appropriate maintenance assigned at the optimum frequency and priority, maintenance resources are better utilized. Accurate, standardized and consistent foundation data will enable future analysis, review and optimization to be conducted at an efficient cost
Reduced risk
Accurate BoM data in the CMMS will reduce the exposure to risk and reliability issues through the identification of spares that should be held in stock
SCE management and assurance
Safety critical elements are being managed appropriately to mitigate risk and assure compliance with performance standards and legislation
Reduce equipment outage time
Help avoid asset or equipment downtime through immediate access to critical spares and through the optimization of the maintenance schedule
Software used to deliver this project
Effio™ is a cloud-based master build and management of change tool that can replicate our clients CMMS, EAM or ERP environment and provides a user friendly, collaborative, and accessible platform for building, updating, reviewing and approving master CMMS data, assigning criticality, and allocating maintenance and materials to equipment tags efficiently, consistently, and accurately.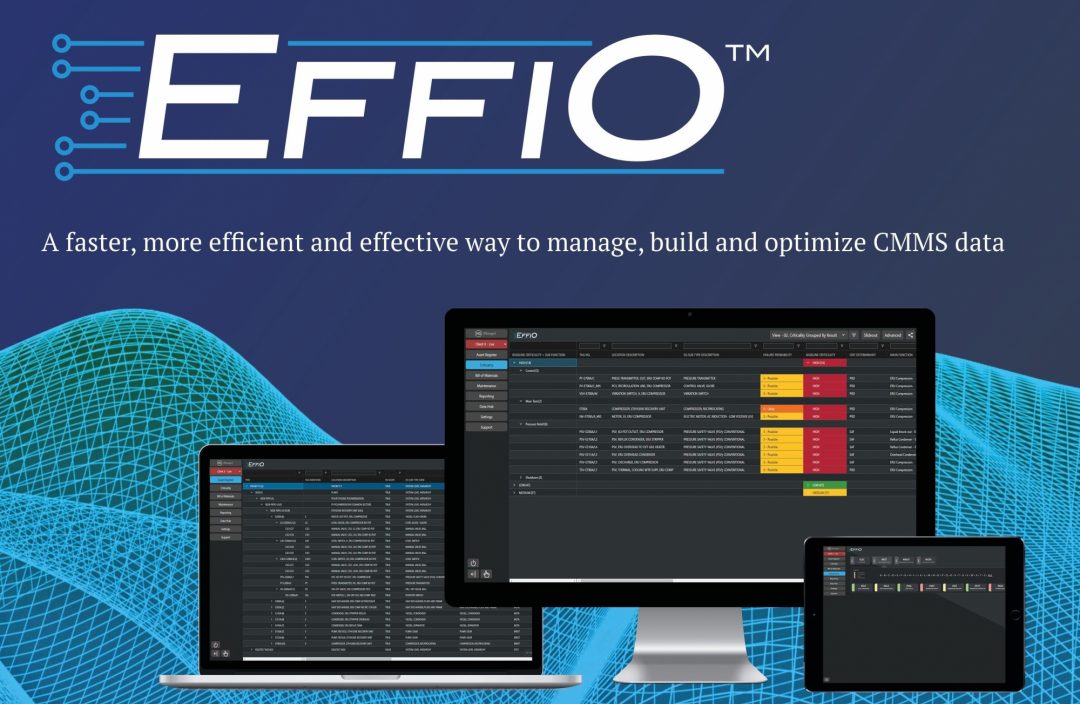 REGISTER YOUR INTEREST IN CMMS DATA BUILDING SOLUTIONS
By registering your interest, you can:
Speak to one of our experts to learn more about our solutions
Request a quotation
Receive ongoing insights and advice around CMMS data best practice and cost saving initiatives
Learn more about our CMMS build software