Project showcase
Saving $74M over 5 years through inventory data enrichment
Project goal
Inventory data optimization
International Oil and Gas Company
27 Onshore and offshore production facilities
The request
To validate, enrich and build equipment Bill of Materials (BoMs) in line with the company's data standards to assure the maintenance, supply chain and materials team had access to the correct data, to order the correct parts, efficiently and effectively for planned maintenance and common corrective maintenance work orders.
Client challenges
During operations the quality, completeness and accuracy of the materials data diminished due to uncontrolled management of change for master data, this resulted in:
The CMMS being overloaded with materials meaning it was difficult and time consuming for the planners to determine the correct materials for maintenance.
Excessive CMMS costs due to the system being clogged with unnecessary datapoints.
Duplicate material masters existing in the system which resulted in poor data governance standards, poor search capability and planners not being able to find the materials that are actually in stock for maintenance, resulting in unscheduled downtime and the inability to share material masters across the organization.
Equipment BoMs not existing for all maintainable equipment.
Free text order requests being made which caused time wastage, maintenance backlog, downtime, wrong parts being ordered and wasted expenditure.
No foresight of obsolete equipment which incurred excessive costs to expedite last minute orders.
Excessive storage costs for spare parts that were obsolete or did not need to be kept in stock.
Digital tags (functional locations) missing from the CMMS and did not have maintenance or materials assigned.
How we helped
Add Energy's materials specialists verified, enriched, and developed equipment BoMs through the completion of the following tasks:
Reviewed BoM data and validated the existing BoMs with OEMs and vendors
Developed a list of BoMs which required intervention (enriched, amended and validated) and identified where BoMs required creation for new and existing tags.
Conducted a risk cost analysis to determine the high value equipment to focus BoMs improvement efforts that would unlock the biggest efficiency gains first (safety, production, and profitability ranking).
Cleansed, enriched, amended, and validated existing BoMs with OEMs/vendors.
Built BoMs for equipment that did not have existing BoMs and validated them with OEMs/vendors.
Identified obsolete equipment and provided obsolescence management recommendations (list of replacement parts recommended by the OEM or vendor).
Identified and documented duplicate material masters and issued to client for implementation of the changes required in the CMMS.
Populated CMMS load templates for direct loading of

167,000

enriched and fully validated BoMs into the system.
Provided on-going training to the regional asset teams on how to input and sustain good quality materials data.
The results
The work completed by Add Energy saved this client in excess of $16M per year on:
Maintenance work planning and execution efficiency gains
Supply chain costs
After project and operational costs were deducted, this unlocked a Return on Investment (ROI) over 5 years of $74M
Software used
Add Energy's materials data management software, Effio™, was used by the project team to deliver this inventory management optimization solution.
Effio™ is capable of replicating our clients CMMS environment and provides a user friendly, secure, collaborative, and accessible platform for analyzing, enriching and assigning materials to equipment tags efficiently, consistently, and accurately.
Effio™ is proven to save an average of 30% on time and project costs when compared to traditional methodologies.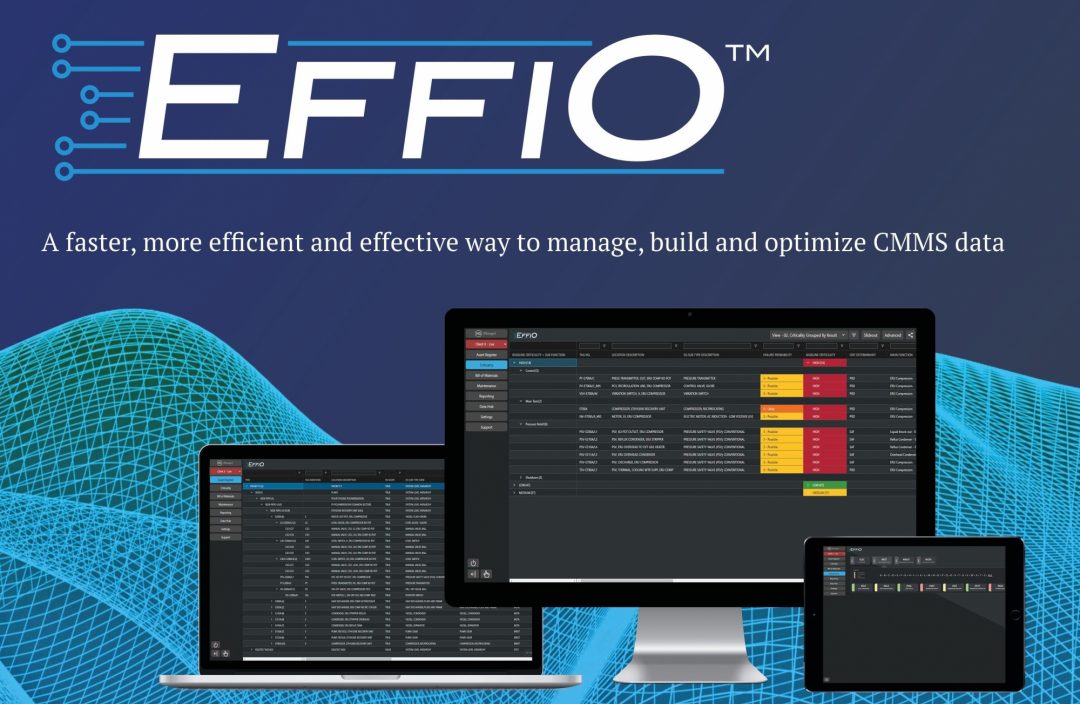 Delivered in CMMS load templates for direct loading of 167,000 enriched and fully validated BoMs into the system.
Enabled part sourcing to be more time and cost effective through access to reliable, accurate and readily available data.
Access to the correct BoM data now helps the asset to avoid purchasing the wrong equipment or spare parts causing unnecessary expenditure.
Helps to avoid asset or equipment unscheduled downtime through immediate access to the data you need to order the correct critical parts.
Assures the planners have the information they need to source the correct parts in a timely manner without paying premium prices associated with last minute orders or delaying maintenance.

By ensuring compliance with the company's data standards, it enabled the planners and supply chain stakeholders to share parts data across their organization, reducing financial waste incurred through material master duplication and ensuring that all existing inventory is efficiently and effectively consumed.
REGISTER YOUR INTEREST IN INVENTORY MANAGEMENT OPTIMIZATION
By registering your interest, you can:
Speak to one of our experts to learn more about our solutions

Receive ongoing insights and advice around inventory management optimization initiatives

Learn more about our digital inventory management software