Project showcase
Unlocking business efficiencies through inventory data enrichment
Project goal
Enrich, optimize, and validate inventory data
The request
Add Energy's materials management team were tasked with enhancing and standardizing material masters and enriching existing Bill of Materials (BoM) data within the clients CMMS and creating new BoMs for critical equipment.
Client challenges
A corporate initiative was driving a data transfer from Maximo to SAP and the client needed complete assurance that their materials data was SAP compliant to assure a successful transition
Significant duplication of materials existed in the CMMS resulting in overstocking of $19M worth of spare parts that were not required
Equipment costs in the CMMS were inaccurate, meaning the budget for spares was dramatically different to reality
Historic spares were attached to equipment and clogged up the system, meaning it was difficult to determine which was the correct spare – resulting in valuable engineering time being wasted
The maintenance, warehouse and procurement team had an extreme lack of confidence in the CMMS data accuracy and would issue "free text" purchase order requests which were difficult to interoperate and resulted in the wrong spares being ordered
Spare parts for decommissioned equipment on the plant had BoMs assigned, which resulted in holding unnecessary spares and tying up money unnecessarily
No central repository for inventory data existed meaning time was wasted searching for data and documentation required to order the correct parts
How we helped

Validated every single tag that had a BoM assigned to determine the correct materials
Validated the spares that were in the CMMS with the OEMs and Vendors and where obsolescence existed, a replacement part was recommended
Created individual item materials that did not exist in Maximo
Standardized and enriched material records to be compliant with the International ISO 8000 standard - global standard for data quality and enterprise master data
Set min/max stock level recommendations
Provided ongoing advice on how to sustain inventory data excellence post project delivery, to avoid a costly intervention in the future by putting processes in place to mitigate the same issues reoccurring
Created CMMS load sheets and issued to the client for implementation
Software used
Add Energy's materials data management software, Effio™, was used by the project team to deliver this inventory data enrichment solution.
Effio™ is capable of replicating our clients CMMS environment and provides a user friendly, secure, collaborative, and accessible platform for analyzing, enriching and assigning materials to equipment tags efficiently, consistently, and accurately.
Effio™ is used as the QA/QC tool by our clients to review and accept master data changes and is proven to save an average of 30% on time and project costs when compared to traditional methodologies.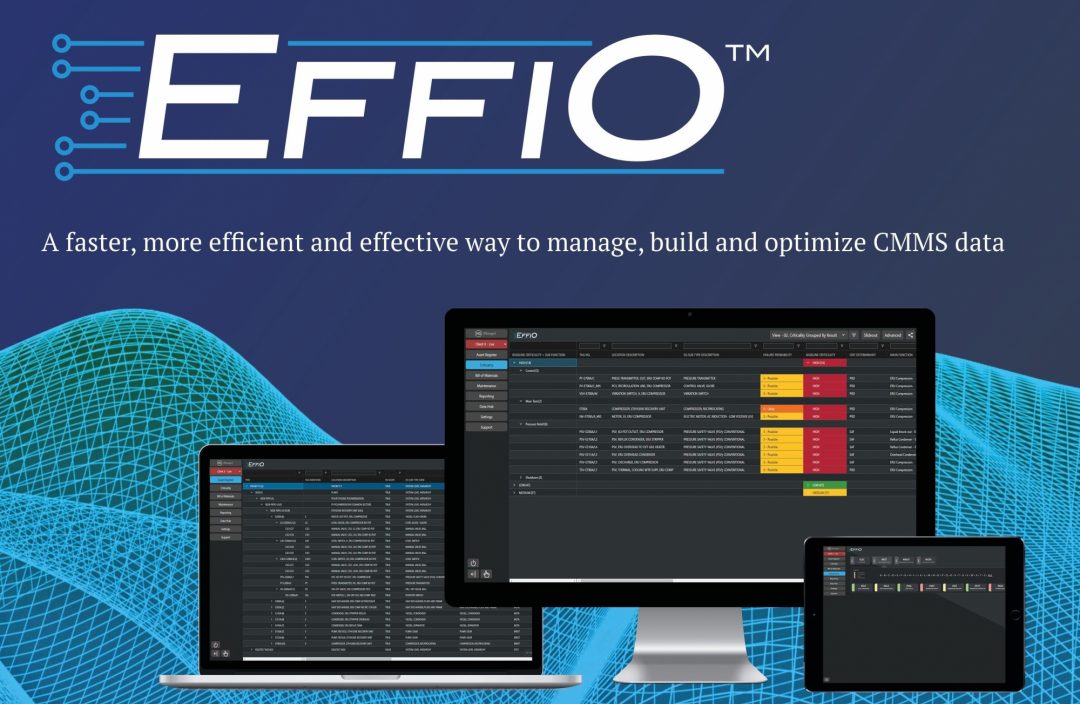 1900 unique BoMs validated by the OEM/Vendors delivered in SAP load files
Standardization and enrichment of existing and new material master
Min/max recommendations for the materials within the 1900 BoMs
A list of replacement parts and their associated data points where materials were obsolete

Consultancy advice for how to sustain inventory data excellence post project delivery
"Working with Add Energy has ultimately been successful. They were steadfast and hardworking at building out the BoMs in the scope of this project. Their program Effio helped simplify communication and track progress of the project through determining spares, QA and then getting them ready to upload into our CMMS.
The other thing that went well with Add Energy was daily communication with the project leader to iron out any roadblocks. During my time work with Add Energy we have accomplished a lot and I hope to work with them again in the future."
Senior Reliability Engineer, Oil and Gas Operator
Equipment Availability
The correct spares are now identified in the CMMS to minimize risk of downtime and avoid unnecessary maintenance backlog
Supported Data Transfer Excellence
The inventory data is now SAP compliant and can be "lifted and shifted" from Maximo to SAP successfully, which will reduce costs associated with data preparation and transfer requirements
Optimized Inventory Spend
Inventory stock levels have been defined to avoid running the risk of overstocking or not having access to critical spare parts
Time Efficiencies
Enabled part sourcing to be more time and cost effective through access to reliable, accurate and readily available data.
Avoid Unnecessary Expenditure
Access to the correct BoM data now helps the asset to avoid purchasing the wrong equipment or spare parts causing unnecessary expenditure.
Effective Planning
Assures the planners have the information they need to source the correct parts in a timely manner without paying premium prices associated with last minute orders or delaying maintenance
REGISTER YOUR INTEREST IN INVENTORY MANAGEMENT OPTIMIZATION
By registering your interest, you can:
Speak to one of our experts to learn more about our solutions
Receive ongoing insights and advice around inventory management optimization initiatives
Learn more about our digital inventory management software